How Public Private Partnerships are Making a Crappy Market Safe Across Bangladesh
August 30, 2017
In Bangladesh, nearly half of 55 million urban residents lack the sanitation infrastructure to properly process human waste. The result: massive amounts of raw waste is unsafely dumped, fouling the environment and posing major public health risks. There's an urgent need to find safe and affordable ways for waste to be collected and treated.
Water and Sanitation for the Urban Poor (WSUP) works alongside local providers, enabling them to develop their own services, build infrastructure, and attract the funding needed to reach low-income communities. Since its inception in 2005, WSUP has helped nearly 14 million people access clean water and sanitation services across six countries. Earlier this summer, we spent a week investigating WSUP's SWEEP program, a public-private partnership (PPP) for fecal sludge management (FSM), which resulted in a $2 million investment from the Skoll Foundation to expand across 4 cities and serve 6.8 million people by 2021.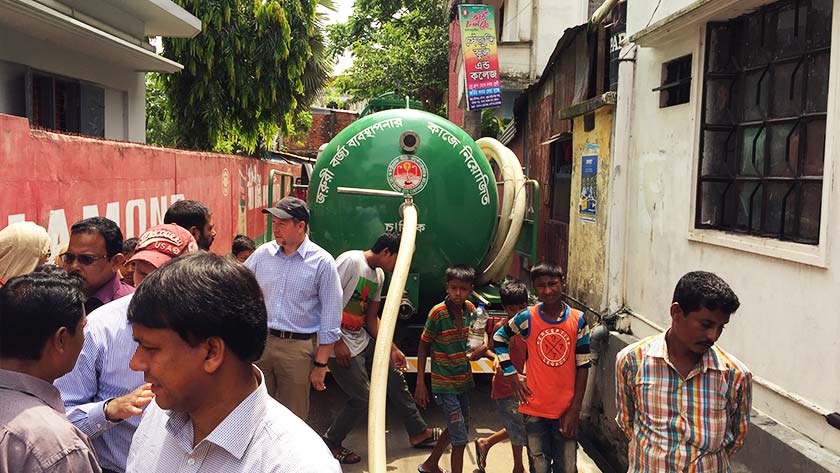 Dhaka is the only city in the country with any sewage infrastructure (just 20 percent coverage), and nearly all non-sewered households rely on manual sweepers–workers who remove the waste at high risk and with little equipment–to empty their on-site pit latrines or septic tanks. More hygienic, mechanical emptying options are limited. Due to failures across the sanitation value chain (containment, emptying, transport, and treatment), nearly all waste is not effectively treated or safely disposed, most often being dumped directly into storm water drains or the environment.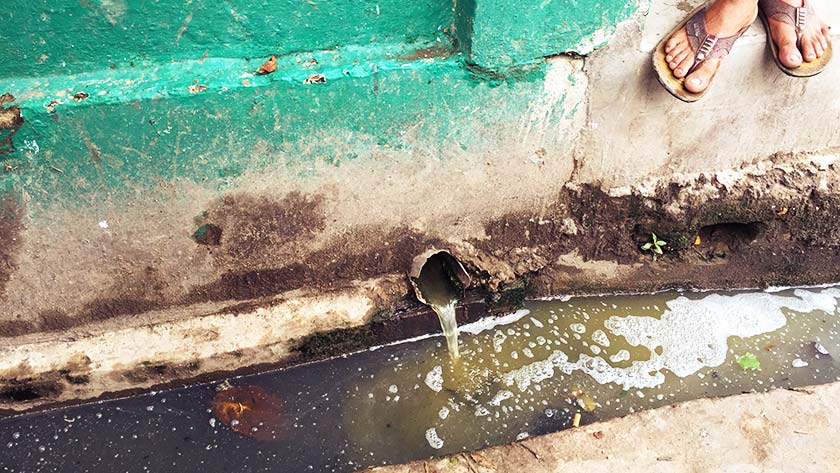 To address this issue, WSUP piloted the SWEEP program in Dhaka for the past two years in order to prove a financially sustainable PPP model for urban FSM that maintains a low-income consumer base. SWEEP addresses the current market failure for providing adequate sanitation solutions in these densely populated urban areas. By de-risking private sector investment and incentivizing collaboration with public utilities, WSUP's approach provides a sustainable option for middle and low-income consumers across urban centers of Bangladesh to have safe, hygienic and affordable septic tank and pit emptying services.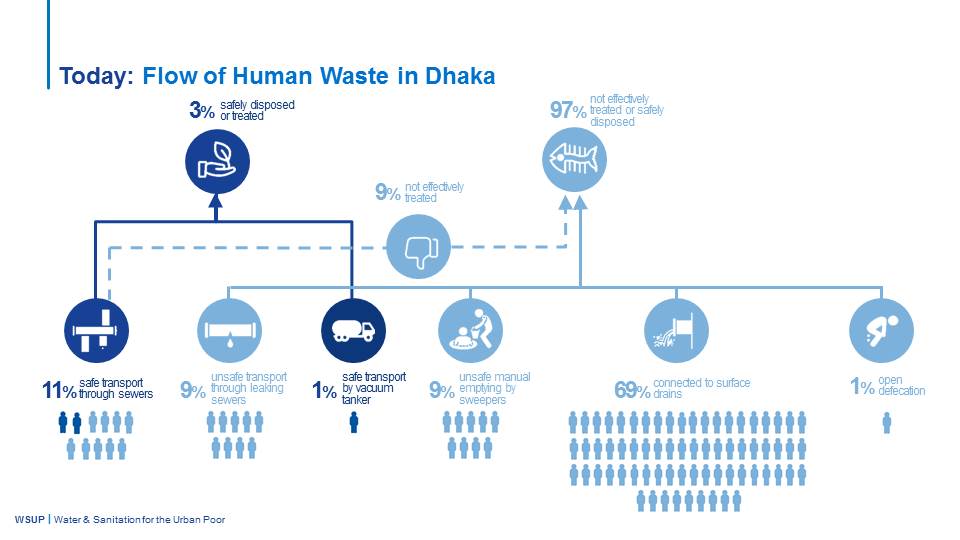 Bringing together the public and private sectors in this manner is critically important in areas where sewered sanitation is virtually non-existent and is decades (and billions of dollars) away from becoming a reality, if ever at all. With SWEEP, private operators provide affordable and professionalized services to low-income consumers by deploying vacuum trucks instead of manual pit emptiers. The private operators earn profits through a blended customer base, while governments earn revenue on lease contracts with the mechanical operators and ensure the safe disposal and treatment of waste. The end result: a financially sustainable and safe FSM service chain.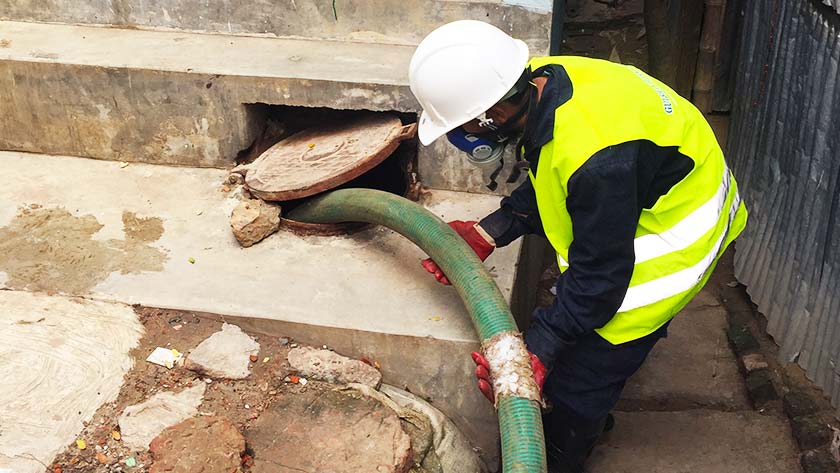 The first SWEEP entrepreneur has seen a roughly 20 percent profit margin while servicing over 125,000 commercial and low-income consumers in Dhaka. WSUP is scaling the SWEEP model in Dhaka and replicating the approach in three other major cities in Bangladesh (Chittagong, Rangpur, and Barisal), with the long term goal that the local government and private sector operators could sustainably run the program in the coming years without requiring NGO support.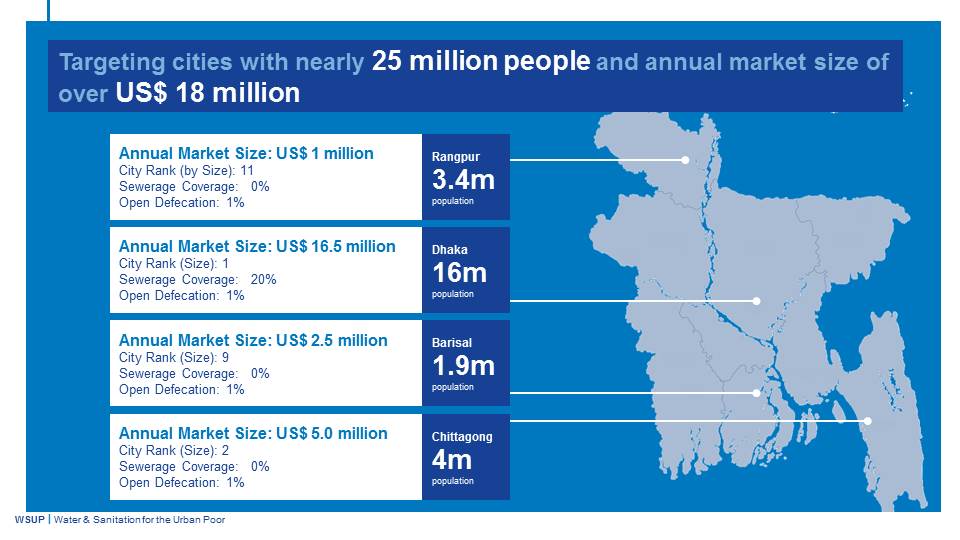 While in Bangladesh, we consulted with various customers (both commercial and residential) and community members in three different low income/slum communities in Dhaka that use pit latrines and manual emptying. As long as the cost is comparable, explained the customers, they would rather use mechanical emptying due to its speed, cleanliness, and safe transport of sludge. We met with local NGO partners and government to gauge buy-in, to ensure sustainability as WSUP phases out its role. We also met with sanitation experts in multi-lateral agencies (World Bank, Asian Development Bank, UNICEF) to learn about their planned infrastructure investments in sewered sanitation improvements across Bangladesh, the role of FSM, and their perspective on the importance of the private sector for sustainable WASH provision.
It's clear that the urban sanitation issue cannot be solved by investing in sewered sanitation alone.
Sewers will not be able to reach many low-income urban communities across the country, presenting a need for FSM services to safely manage fecal sludge in Bangladesh's growing cities. There is growing demand for SWEEP-like innovations. Our consultations with households and community groups across two cities confirmed the growing demand for mechanical emptying as a faster and more hygienic option than manual emptying. The private sector may be the best solution for on-site sanitation. Institutional investors (World Bank, Asian Development Bank) and local government agreed that the private sector and public-private partnership models can be an important solution to on-site sanitation, and that more data and evidence is needed to demonstrate self-sustaining, scalable FSM models.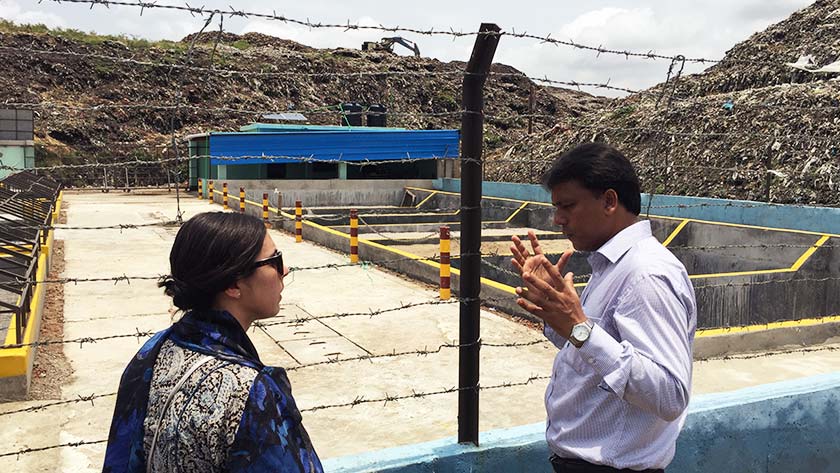 Based upon the lessons learned from SWEEP scaling up in Bangladesh, WSUP has planned a later expansion of the model to Madagascar and Kenya. In Bangladesh, Skoll funding will provide startup capital to purchase vacuum tankers, train and build capacity of the local FSM entrepreneurs, and local utility providers, coordinate across policy and implementing bodies, and disseminate open source lessons learned across the FSM sector. With the track record to date and the interest and demand from the public and private sector players involved, the Skoll Foundation believes in the potential for SWEEP to create systemic change in the sanitation landscape of urban Bangladesh.
WSUP is participating in World Water Week 2017 in Stockholm, including a session on August, 31 with Lucien Chan, Skoll Principal, exploring public private partnerships in urban sanitation.