We're thrilled to announce that Lindsey Spindle, President of The Jeff Skoll Group, will join the Board of the Skoll Foundation. Working for global change-maker and renowned entrepreneur Jeff Skoll, Lindsey has helped oversee and connect Mr. Skoll's network of philanthropic, commercial, and personal interests.
Lindsey has dedicated her career to shaping progressive organizations and campaigns that improve people's lives, particularly women and children. Before joining The Jeff Skoll Group, Lindsey was Chief Communications and Brand Officer of Share Our Strength, a national nonprofit focused on ending childhood hunger in America through its groundbreaking No Kid Hungry campaign. Under her leadership, The No Kid Hungry campaign won PR Week's prestigious Non-Profit Campaign of the Year in 2015.
Before focusing on hunger alleviation, Lindsey spent nearly 20 years in healthcare communications, policy, and government relations working for some of the nation's most respected commercial and non-profit organizations. These include Georgetown University, Avalere Health, Brookings, and Porter Novelli. Throughout her career, Lindsey has shaped major campaigns that curbed youth smoking by 30 percent in one year, increased patient safety through reduced medical errors, defended vaccine safety, and secured bipartisan Congressional funding for improving health care quality.
Lindsey was a member of the first class of girls to attend the Lawrenceville School outside of Princeton, New Jersey, and is a graduate of the University of Michigan. She's a fourth generation native Washingtonian turned Los Angeles transplant along with her husband and two children. Lindsey currently serves on the Board of Directors of the Library Foundation of Los Angeles, The Rise Council for TPG Growth's global social impact Rise Fund, and the Next Generation Council of the Shoah Foundation.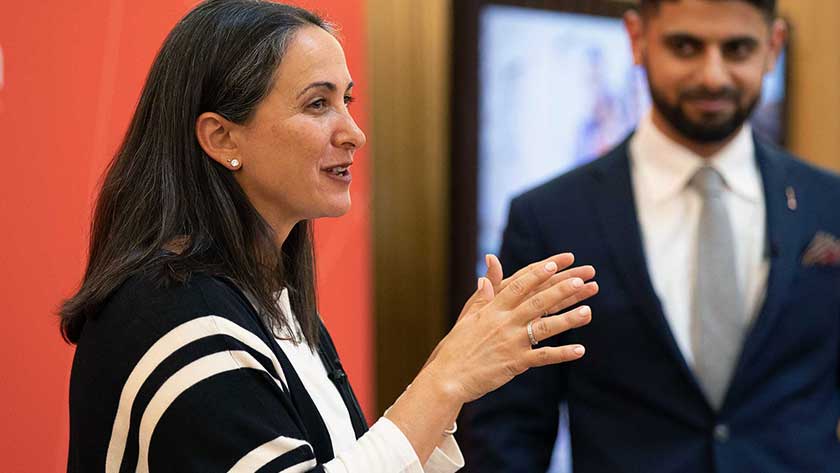 Last month in Oxford she moderated one of the most popular sessions of the Skoll World Forum, "Epiphanies in Proximity: Personal Stories of Turning Points." We recently caught up with her to hear her thoughts on the future of the Skoll Foundation and what it was like to be a female pioneer in what had been an all-male high school.
Zach Slobig: What excites you most about joining the Board of Directors at the Skoll Foundation?
Lindsey Spindle: Jeff Skoll inspires me daily with his courage, intellectual agility, humility, and unflinching dedication to improving the world. My mother once wisely said, "Don't work for a jerk." Mom, I listened.
I'm deeply humbled by Jeff's trust to more directly support the Foundation's mission and team, at a time where philanthropy is essential in catalyzing societal change. My Board colleagues are each esteemed in their own right; as a unit they are an exemplar of cohesive, dedicated leadership.
In joining the Board, I'm struck by a synchronicity between my professional and personal lives. Sally Osberg joined the Skoll Foundation at nearly the exact same time as my first child Piper was born. The parallelism between the maturation of the Foundation that took place under Sally's remarkable leadership and my daughter's journey toward adulthood is uncanny – seeing both find their voice, establish their values and networks, and begin to make a difference in the world.
Both the Foundation and my daughter have accomplished so much, and yet also have miles of opportunity ahead of them. I'm delighted to be a part of the Foundation's next chapter of progression.
Zach: From where you sit, where do you see the most opportunity for the Foundation to push equilibrium change?
Lindsey: One thing that Jeff has constantly impressed upon me is the power of partnership. The Skoll Foundation is involved in several groundbreaking collaborative platforms – TED Audacious, Co-Impact, and the Skoll World Forum to name a few – that provide a template for how pooled resources can be efficiently used to ignite possibility, expand ambition, and shorten the timeframe for achieving results. Imagine what even more strategic collaboration could do in creating a sustainable world of peace and prosperity.
Zach: What does progress in the world look like five years from now?
Lindsey: We live in a world where large problems can be solved with the right blend of will, creativity, and capital. My personal dreams for five years forward:
Fewer people go hungry. Education serves everyone equally. Preventable deaths plummet. Peace is both pervasive and profitable. More humans experience the joy that comes with compromise and true connection. Every child gets the chance to fall in love with reading. And my beloved Washington Capitals win one Stanley Cup.
Zach: What's one thing that most people don't know about you?
Lindsey: In 1987, I was in the pioneer class of girls to attend the previously all-male Lawrenceville School outside of Princeton, New Jersey. The ratio of boys to girls in the first year of co-education was 6:1. Nearly all our classroom instruction was delivered via the Harkness method, which provided an engaging environment for intellectual discourse around a single, large conference table.
This experience at Lawrenceville was transformational in two ways: I learned firsthand how powerful women can be, regardless of whether we are outnumbered or not; at Harkness tables I unwittingly received my first Board training at age 15.