As Rio Olympics Kick Off, SPI Data Shows Uneven Social Progress in Brazil
August 5, 2016
The opening ceremony for the 2016 Summer Olympics kicks off today in Rio de Janeiro, Brazil. Both the city and the country have been mired in controversies in the lead-up to the games, related to concerns about health, safety and security, environmental pollution, and corruption.
The Olympics will come and go in just a couple weeks' time, but a range of important social factors will continue to shape Brazilians' lives long after the international athletes and spectators have left. The 2016 Social Progress Index (SPI), released in June of this year, provides insights into how Brazil is currently faring across key dimensions of social progress.
An important feature of the SPI is its recognition that while economic growth is correlated with social progress, other factors also contribute significantly, particularly in middle- and lower-income countries. Brazil ranks 46th out of the 133 countries measured by the 2016 index, and its SPI score actually outperformed its economic position—55th among the SPI countries, as measured by GDP per capita. It is also worth noting that Brazil's SPI scores have steadily increased, from 69.97 in 2014 to 71.7 in 2016, even as its GDP fell during the same period.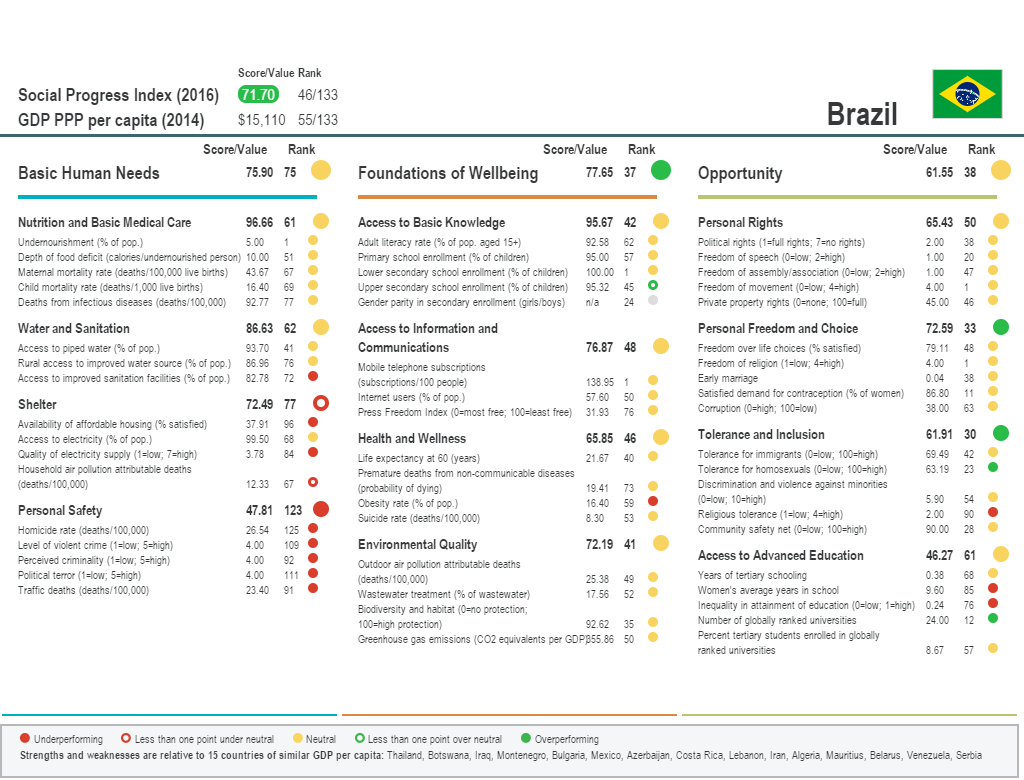 Compared to other countries with similar GDPs, Brazil performed well on the SPI's Personal Freedom and Choice and Tolerance and Inclusion components. On the other hand it scored poorly on Shelter, and on Personal Safety, where it ranked 123rd. This should come as no surprise, given the considerable public attention this issue has received in the months leading up to the Olympics.
Looking at Brazil's scorecard from another angle, we see evidence of considerable social inequality. Compared to other countries with similar GDPs, Brazil appears to perform better in the Foundations of Wellbeing and Opportunity components, which is often indicative of a more developed economy. At the same time, however, Brazil has fared relatively poorly in providing for Basic Human Needs, suggesting that there may be stark contrasts in conditions and opportunities between different pockets of the population. Indeed, this contrast is reflected in Brazilians' access to advanced education: Whereas Brazil overperforms in the number of globally ranked universities and upper secondary school enrollment, it underperforms on indicators of women's education and inequality in educational attainment.
Applying SPI at regional and city levels drives local change
In addition to country-by-country comparisons, the SPI can also be adapted and applied at smaller scales, generating strategic insights that local leaders can use to drive social change. Brazil was the first country in the world to create a sub-national Social Progress Index in 2014, offering the most detailed diagnosis of social and environmental progress in the Brazilian Amazon's 772 municipalities and nine states. The Brazilian Amazon Index has since been integrated into public planning in the state of Pará.
In May 2016, the Brazil Social Progress Network also launched its first city-level index for Rio de Janeiro. In doing so, Rio de Janeiro became only the second city in the world, after Bogota, Colombia, to create a Social Progress Index assessing social and environmental performance in different regions of the city.
Rio's SPI found that its regions struggle most with the Access to Higher Education and Sustainability of Ecosystems components. This can be attributed in large part to low rates of people who finish higher education, especially among the non-white population, and low rates of waste recycling.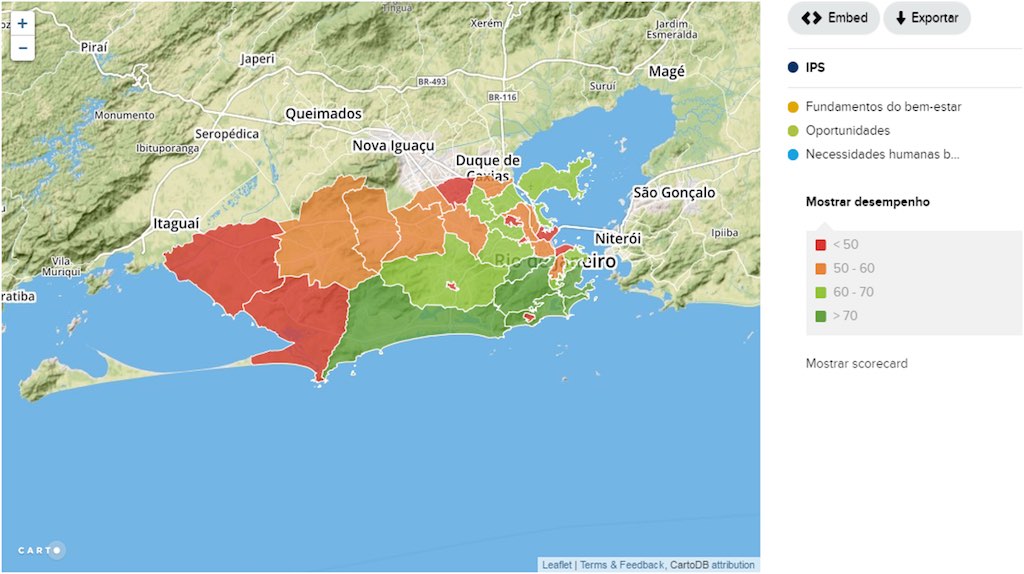 One of the main findings was that inequality is extremely high between different regions of the city. While two regions had SPI scores higher than 85, six scored below 45. Interestingly, some regions with similar per capita income showed very different levels of development as measured by the SPI—more evidence that economic prosperity is only one aspect of social progress.
Brazil faces a number of challenges, but tools like the SPI, which Brazil has been a global leader in adopting, give key decision makers the data they need to make informed policy decisions that can effectively address the country's greatest needs.
In the rest of Skoll.org's series on Brazil, released to coincide with the Olympics, we will hear from social entrepreneurs working to address some of these very issues, and explore why systems change is necessary to achieving lasting, positive change for all Brazilians.
Learn more about the Social Progress Imperative here.