My Health, My Right: Turning an HIV-free Vision into Reality
November 30, 2017
In 2006, Juliet was 26 years old and six weeks pregnant when her feelings of joy sank into anxiety and fear. The HIV test she had taken during an antenatal clinic visit had come back positive, and she was frightened. She had watched her mother die three years earlier from an AIDS-related illness. During a brief post-test counseling session, the nurse advised her to start treatment immediately to protect herself and her unborn child. She also urged her to share the results with her husband. She would need his support to travel to the health center to collect her medication that had to be taken daily. On the long bus ride home, she realized she could not disclose to him.
"In East Central Uganda, where I come from, men are the breadwinners and make all of the important decisions. A woman's role is to produce children and do housework. My fear was that once I revealed my status, my husband would kick me out of the house and I would have nothing to live on."
Though Juliet had access to medical care, she was not able to exercise her right to this care. As a result, she did not take her medication regularly, and needlessly passed on the HIV virus to her twin girls. One developed an AIDS-related illness at four months and died. Her other daughter survived, and Juliet resorted to giving her medication in secret.
mothers2mothers (m2m) is an Africa-based NGO working to ensure that Juliet's experience is the exception, not the rule. Our peer mentor approach sees HIV-positive women trained and employed as frontline health workers who work hand-in-hand with doctors and nurses. These "Mentor Mothers" provide health advice and emotional support to women and their families and link them to health services.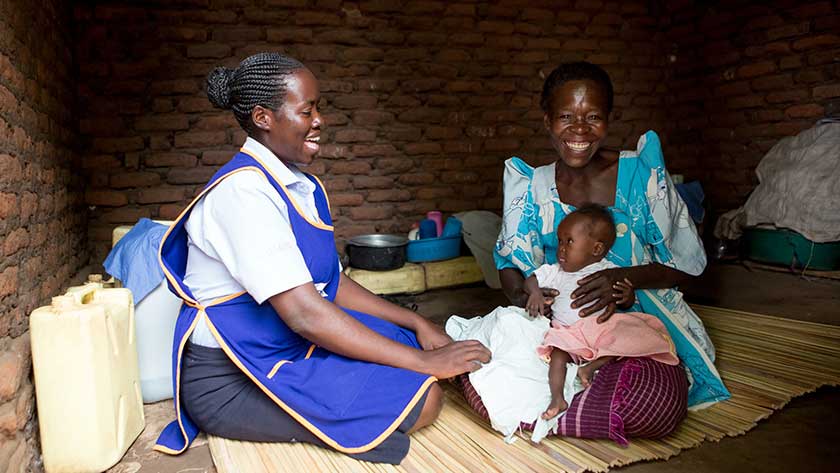 Every day, Mentor Mothers address globally-recognized challenges that make it difficult for HIV-positive individuals to exercise their right to medical care—including stigma and gender inequalities—both significant factors in Juliet's case. Mentor Mothers not only provide services in health centers, but also in communities where they visit women and families who have not engaged with the health system or who have stopped treatment, and support them to be adherent and access medical care.

They also tackle the challenges of severely under-resourced healthcare systems across sub-Saharan Africa—a region that the WHO estimates that today has 4.2 million too few healthcare workers, a figure that will rise to 6.1 million by 2030. Furthermore, they address HIV's causes and effects in a more comprehensive way by providing services to entire families—including HIV-exposed children who have not been tested or treated, adolescents, and male partners.
Our data show that the model is working. In 2016, 98 percent of m2m clients consistently took their antiretroviral medication more than 80 percent of the time, which is sufficient to reduce a person's viral load to an undetectable level. And, in 2016, m2m achieved virtual elimination of mother-to-child transmission of HIV among enrolled clients for a third year in a row, with an average transmission rate of 1.6 percent.
Why is this important? While new HIV infections and AIDS-related deaths have dropped significantly, the global community must still overcome critical obstacles to meet its goal of ending AIDS by 2030.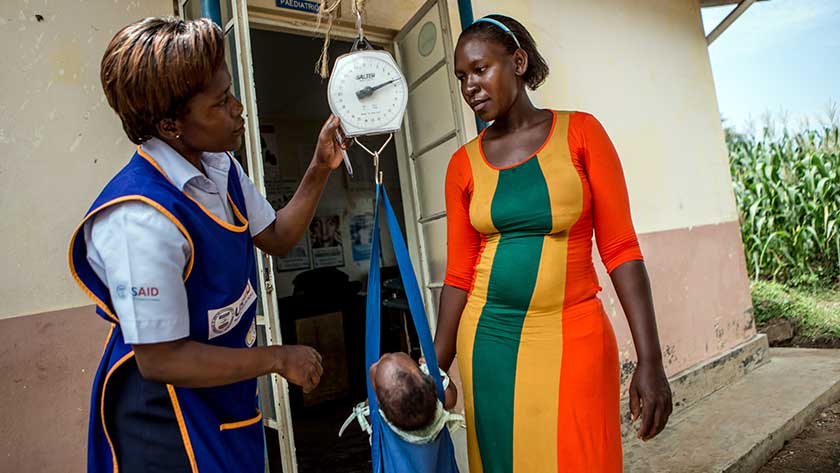 These include reaching individuals who have not accessed medical care or who have dropped out of treatment, and accelerating efforts to address the serious HIV/AIDS epidemic among adolescents and young people. The African Union's initiative to deploy two million new community health workers across the continent by 2020 is critical to winning the battle of ending HIV transmission.
For Juliet, her life took a dramatic turn when she became a health service provider. Four years after her daughter died, m2m opened a site at her health center and she applied for a job as a Mentor Mother. After she was hired, her fellow Mentor Mothers supported her when she told her husband her status. He tested HIV-positive and is now on treatment.
Her job at m2m also made it possible for her to return to school—three years ago she received a bachelor degree in social work and social administration. Today, she is a breadwinner in her family and was recently promoted to be a Program Assistant in m2m's country office in Jinja, where she supports country operations. This highlights another benefit of our model and of community health workers, the ability to provide employment and advancement opportunities for individuals who might otherwise be among society's most marginalized.
Even though Juliet has transformed her life through employment, bravery, and awe-inspiring determination, she has her eyes on one more prize. "mothers2mothers has given me the opportunity to participate in a global struggle against pediatric HIV which took the life of my lovely baby girl," she said "Now more than ever, I will do everything in my capacity to support, educate, and help all the women in my community to ensure that no more babies get infected with HIV and families have the opportunity to stay healthy and thrive."
At mothers2mothers, we will help the African Union reach its goals by employing more Mentor Mothers and advocating for access to effective health care—today and every day.
This World AIDS Day theme is "My Health, My Right." While we celebrate the incredible work that has been done to change the course of the epidemic—from effective treatment regimens to increased testing to targeted uptake of treatment and winning strategies in preventing mother-to-child transmission of HIV, we must be mindful that focused prevention, testing, and treatment cannot work without effective, accessible healthcare services.
The African Union has declared that two million more community health workers must be employed by 2020 to close Africa's healthcare gap and help to deliver this right. We hope you will support us by signing up for our newsletter, or following us on Facebook, so we can play our part in turning this goal into a reality.