High in the hills above Udaipur, Rajasthan, I recently walked through a lush landscape with a healthy watershed, an expanse of vibrant green that less than 20 years ago had become badly degraded, overexploited, and neglected. I'd come to see the work of Foundation for Ecological Security (FES), and these rolling hills outside the city were the perfect introduction—an area that the government had long classified as "wastelands" had been transformed into a productive commons through collective action.
Roughly a quarter of all land in India is government owned, and some 350 million rural poor people rely on these common lands for food, fuel, and fodder for their livestock FES assists villagers in securing legal rights to access, improve, and manage their common lands—villages that have worked with FES have seen household incomes increase by 40-100 percent. FES works closely with villagers to understand the current uses of the common lands and villagers' aspirations for the future of these spaces.
One morning, for instance, I was fortunate enough to join a meeting of villagers discussing a water management plan in the face of climate change. Since the original restoration of the lands, the trenches the community had built began to fill with silt. They talked about what they needed to do to fix these trenches to improve water flow and availability—a real challenge in recent years with erratic rainfall.
FES educates villagers on the pathways to gain communal land title and helps unlock government resources to support critical improvements like dams, irrigation systems, and plantings. Meanwhile, FES educates and collaborates with local, state, and national officials to implement policies that promote the management of commons by local people.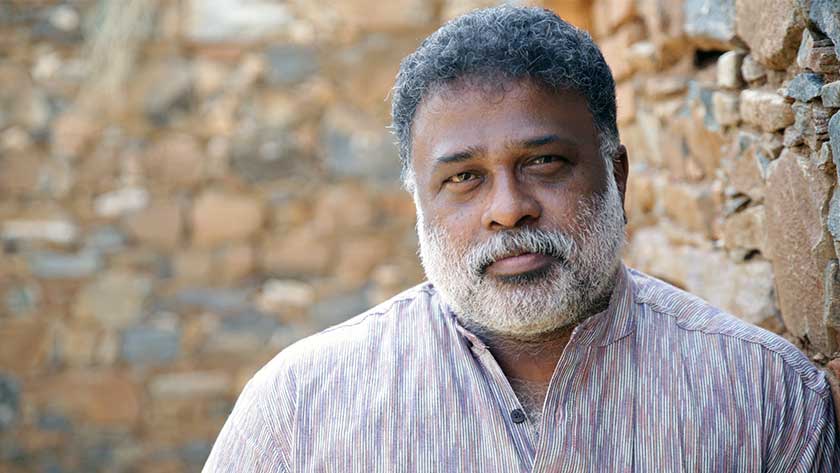 Outside of Udaipur, we met with the cadre of Community Resource Trainers who are helping FES scale up at the "block" level—a cluster of villages—and "district" level—a cluster of blocks. FES has equipped these Trainers with tablets operating with their data platform and a range of digital tools to map common lands, plan for soil and water conservation, and provide information on applicable government social security schemes. Each trainer supports 3-4 villages in managing their common lands. They help villages obtain and register title of common lands and help strengthen the village-level governance over these lands. Various levels of the Indian government have expressed interest in the broader adoption of these tools.
From Udaipur, we drove 150 kilometers northwest to Bhilwara, Rajasthan to see how FES scales its work at the District level—the equivalent of US counties. Here I observed a federation of over 250 village institutions gather in the shade around a huge map to address how to secure tenure of common lands. The land under their feet is mineral-rich, and a common challenge is the constant threat from mining companies. Gaining secure, legal, and recognized title to the common lands is one mitigation strategy against such threats. I was interested to see letters that the Federation had written to Prime Minister Modi to advocate for this type of protection from extractive industry. I heard many stories from village institutions who had successfully delayed or thwarted encroachment of the land by mining companies.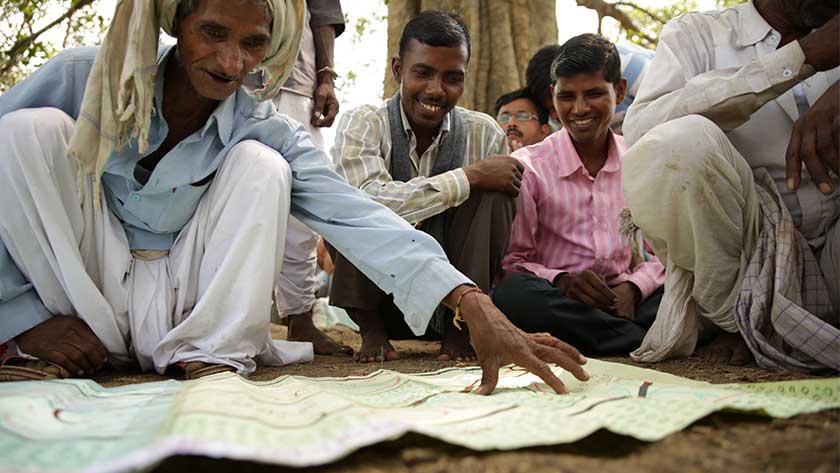 In Bhilwara, I also met the official in charge of planning and implementing public investment programs, like control of government funds toward the restoration of commons. He told me about the importance of FES working with local government to help map lands and secure tenure. He told me that with government offices notoriously understaffed, FES collaboration is deeply appreciated, and in fact, urged for more FES support given the huge opportunity that lies ahead.
From Bhilwara, we drove another 250 kilometers north to Jaipur, the capital of Rajasthan to meet with CS Rajan, the former Chief Secretary of Rajasthan, and current Deputy Chair of the Planning Commission. He talked about the impact of FES' field level work and the opportunity for greater advocacy and broader collective action, both of which line up with FES' strategic plan for growth. "FES has mastered the ability to stay above politics," he told me. We also met with nine local NGO partners who came to meet us from Odisha and Andhra Pradesh with whom FES plans to significantly expand its reach.
I rounded out the trip with a whirlwind of meetings in Delhi—national government officials, lawyers, think tanks, activists, and economists—to develop a deeper sense of the context in which FES works and the key actors in the ecosystem. With elections just around the corner in 2019, now is the time to elevate dialogue around the role of restored and vibrant common lands to lift rural Indians out of poverty and help reverse the effects of climate change.