The Power of Water Micro-Lending as Income Enhancer
April 4, 2018
Her smile is truly as warm as the tea she prepares each morning to sell from her home in Mysore, Karnataka, India. Past the mint and chamomile drying in the window one can see Nanda's husband feeding and watering their dairy cow. Days didn't always start like this for the couple. For years this time of day was spent focused on collecting water.
Like the other women in her village, Nanda rose before the sun to collect water for her family. After multiple trips back-and-forth to a distant community well, she eventually had enough water for meals, baths, and laundry.
Now, because of a small loan, a water tap stands only a few feet from Nanda's door, near her garden bed where her herbs grow. Though she was unable to offer her children safe water throughout their childhoods, Nanda smiles today.  She smiles because her income selling tea helps pay for her grandchildren's clothes and books for school.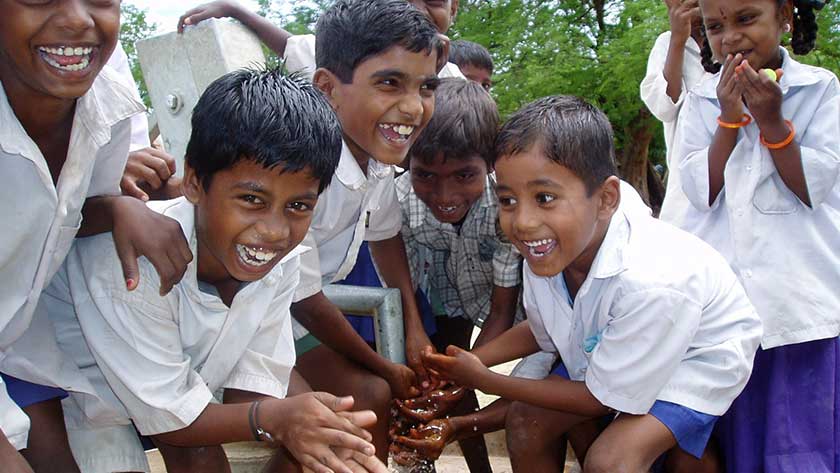 Globally, 844 million people lack even a basic drinking water service, and 2.3 billion people lack access to hygienic sanitation. The clear majority of these people live below the poverty line, lack access to affordable financing, and cannot build a toilet or a piped water connection without financial support. These simple facilities can cost a poor household more than its entire monthly income.
When aggregated, the requirement is staggering. As estimated by UNICEF/World Bank, to ensure universal access to safely managed WASH (Water Supply, Sanitation and Hygiene) services by 2030 we need around $114 billion per year while the historical level of annual funding is $16 billion. Water.org's mission is to leverage social and commercial capital in the form of micro-loans for water and sanitation, to reduce this financing gap. Nanda's story above demonstrates our belief that the poor are agents of change, and are willing to finance their own toilet or water connection if they can spread the cost over time by saving or borrowing. To date, we have reached nearly ten million people through water and sanitation lending, globally.
This success was earned through battling two prevalent misconceptions in the market through our work in India.
Firstly, that the "Poor are unbankable," and secondly, "they are not willing to spend on 'aspirational' products such as household water connections and toilets."
Water.org began its work in India in the early 2000s, when the microfinance (MFI) and self-help group (SHG) movements were in their infant stages. Unlike commercial banks, these dedicated organizations were lending to the poor, for income-generation purposes (livelihood generation activities). However, the pervasive view was that micro-loans towards water and sanitation are too great a financial risk.
We developed 'WaterCredit' to provide capacity-building grants and technical assistance to Water.org certified MFIs and SHG federations to help them create water and sanitation loan products that would serve the poor. Grants were necessary to incentivize the MFIs and SHGs to push beyond their comfort zone and try something counter-intuitive. It worked and it scaled. The financial institutions mobilized the capital for these loan products and a robust market for water and sanitation lending has emerged.
Through the support provided by WaterCredit, 2.2 million loans worth $722 million have been directed towards water and sanitation globally, with an average repayment rate of 99 percent. It is important to note that approximately 70 percent of these clients live in households earning less than $3.1 per day.
Water and sanitation is not merely a consumptive product, but an aspirational product which enhances household income.
Water.org's work in India has also established that water and sanitation is not a consumption product, but a loan that helps enhance household income, by improving health, hygiene, productivity, and safety. Before taking a loan, only 53 percent of WaterCredit borrowers in India made at least Rs. 3,000 ($ 47.3015) per month; after the loan, this proportion nearly doubled to 97 percent.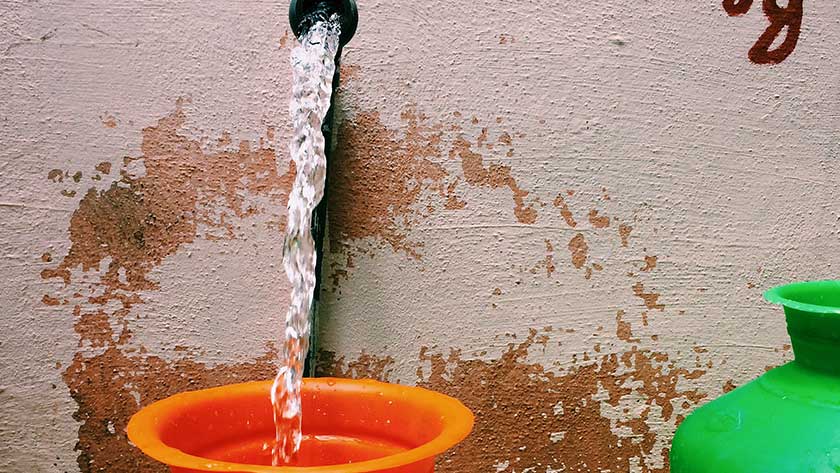 Nearly one-quarter of borrowers attributed increased income to extra time for women (time saved in fetching water or walking to defecate), and one in five attributed increased income due to a boost in overall productivity. Nearly one in four WaterCredit borrowers reported reduced illness and one in five reported reduced medical expenses—reducing illness also improves children's school attendance and lifetime earning potential.
Positioned now as an 'income-enhancing' product, this has led to key changes: a) financial institutions scaling up allocations for water and sanitation beyond token limits set for 'consumptive loans'; for example, ECLOF Kenya has disbursed over 4,000 loans, which represents 18 percent of their overall lending portfolio.  b) Institutions adopting these loans as means to attract new clients vis-à-vis providing these loans to customers who had established credit record. There are also several cases where successful repayment of a water or sanitation loan established creditworthiness and institutions have been able to retain clients by offering additional loan products. In Cambodia, nearly three-fourths of water and sanitation loan recipients were new customers, of which about 15 percent went on to take another loan during the program pilot—the majority for non-water and sanitation purposes such as agriculture and small business.
Overall, correcting these misconceptions has resulted in water and sanitation lending growing rapidly year over year – 96 percent growth from 2016 to 2017. More importantly, it has led to a reinforced effort by a wider range of actors—initially skeptical—to contribute to the mission: commercial banks, policymakers, and other donor agencies.
Vedika joins us at the Skoll World Forum in Oxford on the panel "Dismantling Invisible Barriers to Capital."
Join the conversation: #SkollWF