Partnering with governments is an increasingly popular pathway for social entrepreneurs seeking to scale their impact. But as the new Scaling Pathways report shows, there is no one-size-fits-all approach. It depends on the partnership goals, from getting government to simply grant permissions, to full adoption of the intervention, or even policy change. While different strategies may be used at different times, it's important to have a clear understanding of the end goal. This way social enterprises can decide on the best-suited approach.
Approaches to engaging governments can fall on a spectrum from developing, piloting, and refining a model first (i.e., Build First) to co-creating the model or intervention with government partners from the start (i.e., Build Together). Each has its pros and cons. Employing a strong "build together" approach, the social enterprise Fundación Capital believes strongly in the power of partnering with government to improve the economic lives of millions living in poverty. We recently caught up with Ana Pantelic, Chief Strategy Officer for Fundación Capital, to hear more about what they have learned in this process.
Elyssa Lewis: As the Scaling Pathways report highlights, it's important to know what the goal of your government partnership is before you start. What are Fundación Capital's government partnership goals?
Ana Pantelic: As is the case for many social entrepreneurs, we are keen to reach millions, leverage institutional scaffolding toward cost efficiencies, and achieve equilibrium change. Partnering with governments is the most effective way to do that. Through their social protection programs, and particularly cash transfers (which exist in 130 low- and middle-income countries around the world), governments have identified clients (low-income families) and created networks that we can tap into.
But embedding financial or productive inclusion initiatives into social policy is no easy task, and it requires us as social entrepreneurs to take the time to really understand government needs, and then work with them to co-create solutions that fit into their own strategies. To that end, we are on the farther end of that partnership spectrum, seeking adoption and policy change. In fact, this has been our approach since day one. For a lean social enterprise like ours, co-creation toward adoption and policy change is crucial to achieving our social mission.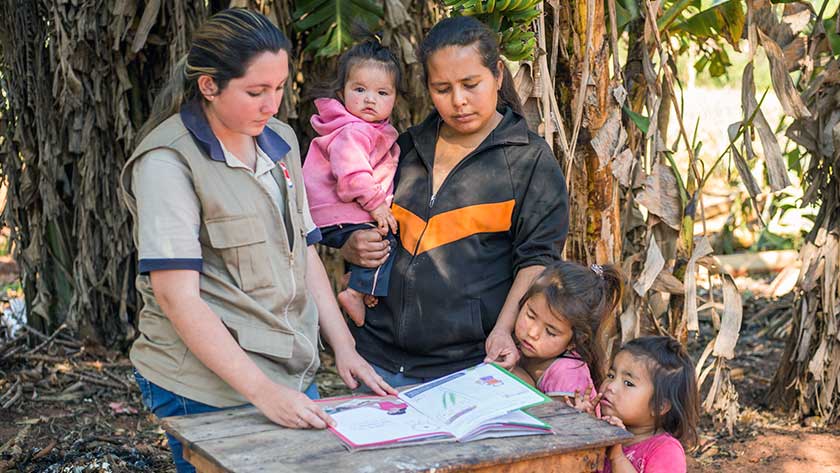 Elyssa: To help paint a picture, can you give an example of a partnership where you've employed this "build together" approach?
Ana: Certainly. In Colombia we partnered with Prosperidad Social, the Colombian ministry responsible for the Más Familias en Acción (MFA) cash transfer program. We partnered with them in 2009, initially to support financial inclusion initiatives and promote savings through the MFA program. We realized that financial training was needed to achieve that, but the traditional approaches of in-person workshops were too expensive and not always effective in achieving behavior change.
We pitched them the idea of developing a digital solution to build financial capabilities, which we called LISTA. The government had been skeptical, and rightly so. This would be the first initiative of its kind. But we had three years of experience working together, so they were open to innovating with us. So, in 2012 we started working, together with our Prosperidad Social partners, towards a proof of concept. It ended up being a two-year process. We worked with them on an assessing user needs, aligning institutional messaging, validating storyboards and training outcomes, and sharing findings and user feedback. It was a collaborative process of continuous iteration and improvement that resulted in a successful pilot program.
In the end, the government decided to adopt LISTA into their social policy and finance the scale-up from one thousand (in the pilot) to 100,000 MFA recipients. Since that initial pilot, LISTA has reached half a million users across seven countries, and governments have helped not only through financing, but more importantly by providing access to in-kind support through networks and data. That's the power of building together.
Elyssa: It's clear that building together with government is not a quick process. Given this heavy lift, why is co-creating so important to Fundación Capital's work?
Ana: It's true. Co-creating takes a lot of time and effort, but we see two big benefits. First, this approach allows us to align our work with government priorities. We can spend time on issues that are actually critical and timely to the government, taking a "pull" rather than "push" approach. We can also zoom in on government priority geographies, such as the poorest regions, to tap into timely opportunities.
A second benefit of building together is the ability to leverage government scaffolding. When piloting in a new area, working with government partners can validate us and our work. By introducing us to their local teams we can hit the ground running. They can also provide access to their networks, such as community leaders or field agents. These people often become a trusted channel for sharing information about a project and supporting its implementation and keep our organization lean.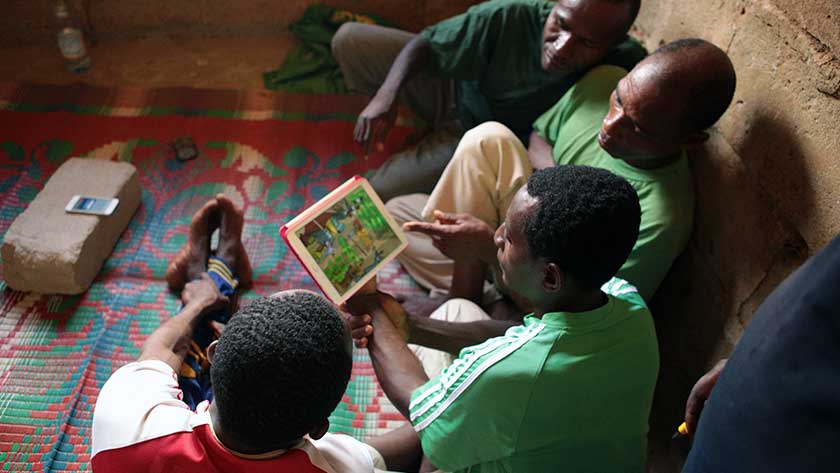 Elyssa: I think your point about aligning with existing government priorities is key. However, I'm sure it's easier said than done. Can you give some advice and examples on how Fundación Capital does this?
Ana: We always try to clearly articulate the value proposition to governments in a way that aligns with their existing incentives. But before we propose anything, even if it has been proven across multiple countries, it's important to take the time to listen, learn, and understand their problem. So, we do a lot of homework. This means reading stacks of documents, such as country strategies and policy briefs. Whatever we can get our hands on that will help us understand their perspective. Also, in these early stages, we may visit our partners' offices on a weekly basis, filling research and knowledge gaps to build a rapport and home in on what's most important. And of course–we'll likely spend weeks in the field, making sure we're meeting customer needs, as well as identifying the needs of local government representatives.
Only once you have this level of understanding, can you start to articulate your value proposition, such as helping governments reach "last mile" citizens, cut down their costs, or achieve international visibility. There are a lot of social enterprises excited about partnering with governments so articulate what you bring to the partnership.
We try to make it easy for our government partners to identify what's in it for them. In Honduras, we were able to demonstrate a portfolio of the type of work we had done in other countries and to brainstorm with the government what would be a priority for them. As they were in the early stages of digitizing their cash transfer program, they were keen on engaging on a number of initiatives to support both financial and productive inclusion, and in a way that wasn't silo-ed. Once we jointly agreed on priorities, we put together a work plan in order to manage expectations and timelines.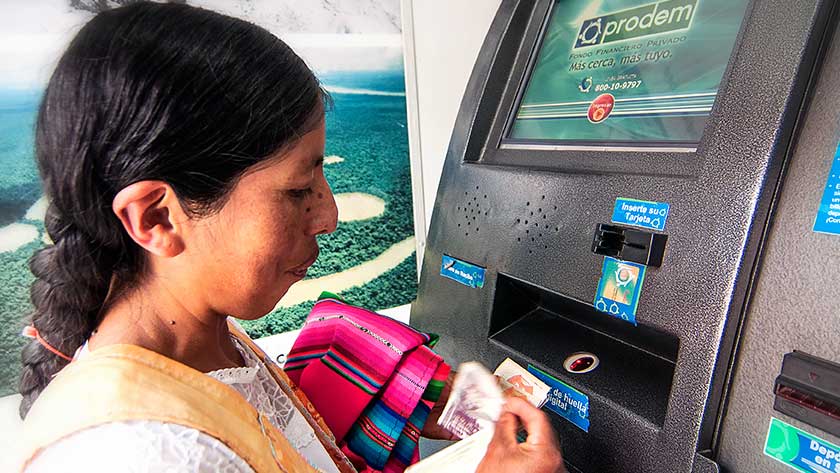 Elyssa: You mentioned that you try to build rapport with your government partners. I imagine that this is also crucial for successful long-term partnerships. What are some other ways that you do this?
Ana: Well, to build strong relational capital and trust, you need to show you're really committed, that you'll be there for longer than the duration of a single project. In each of the places we're working, we try to demonstrate that we are committed to the country's development and will see things through. For example, when Fundación Capital started working in Honduras, we not only took the time to co-create initiatives that were a priority to the government at the moment, but we established goals and milestones for both the near and long-term. Our partners, in this case, felt comfortable with making these lasting plans because they knew that we had a track record of long-term partnership in the region.
This work also requires rock stars, people who can be diplomatic, humble, creative, knowledgeable, and a whole host of other qualities all at once. Those people are hard to find, particularly when they need to be based in-country, which is crucial to building and maintaining those close relationships. We find that diversity in staffing can go a long way. So, it's no surprise that among our current team of 65 colleagues, there are 22 different nationalities represented, and half of those are countries where we don't work. I'm a good example of that, as I'm a dual citizen of Serbia and the United States. In my opinion, human capital is crucial for government partnerships, but it is also an Achilles heel since it can make or break a relationship.
Elyssa: That makes a lot of sense. Are there any other pitfalls or things that you think social entrepreneurs should know when taking a build together approach?
Ana: Expect the unexpected. You will be disrupted by changes in government regulations, election cycles, and macroeconomic events. Be very clear about that with your funders, so they know to expect pivots.
Secondly, check your ego at the door. While we may come with deep expertise, we can't assume to know more than a policymaker and should recognize that they face massive bureaucratic obstacles that we may not. It's important to listen and learn from them. It's not a zero-sum game: when they look good, you look good, and together you can achieve greater impact.